Visfed Flash Editor Revolation Tea2 is special Software by PhoenixDiag for  OBD pre-2013 (Tea2, APCI) that includes Flash Programs, Parameter modification and more.
Flash Editor Tea2 works through two modes.
1. With Mod TT
2. Mode Software Direct Software throw without TT
MODULES:
P-T-T  MODE
Connect to your vehicle with Techtool. Then find and Program the files specific to your Vehicle with the Flash editor Tea2.
*It receives Vehicle Information via Techtool.
*Flash Programming via  on Techtool
*Support Volvo,Renault,MACK, UD, PENTA,BUS, Volvo Construction Equipment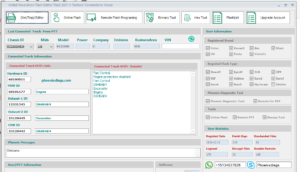 Phoenix Diagnostic Tool :Work Without PTT
It is directly connected to your vehicle. Reads vehicle information. Techtool is not needed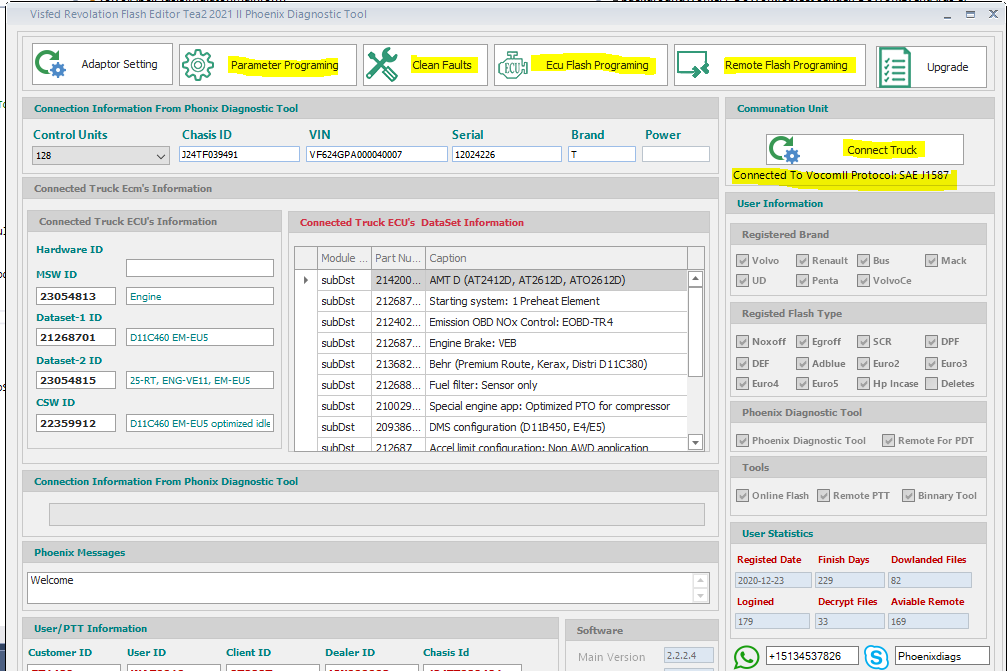 Paramer programing Access :Phoenix Diagnostic Tool works according to Ecu selection. It lists all the parameters you selected and allows you to change them. There are no restrictions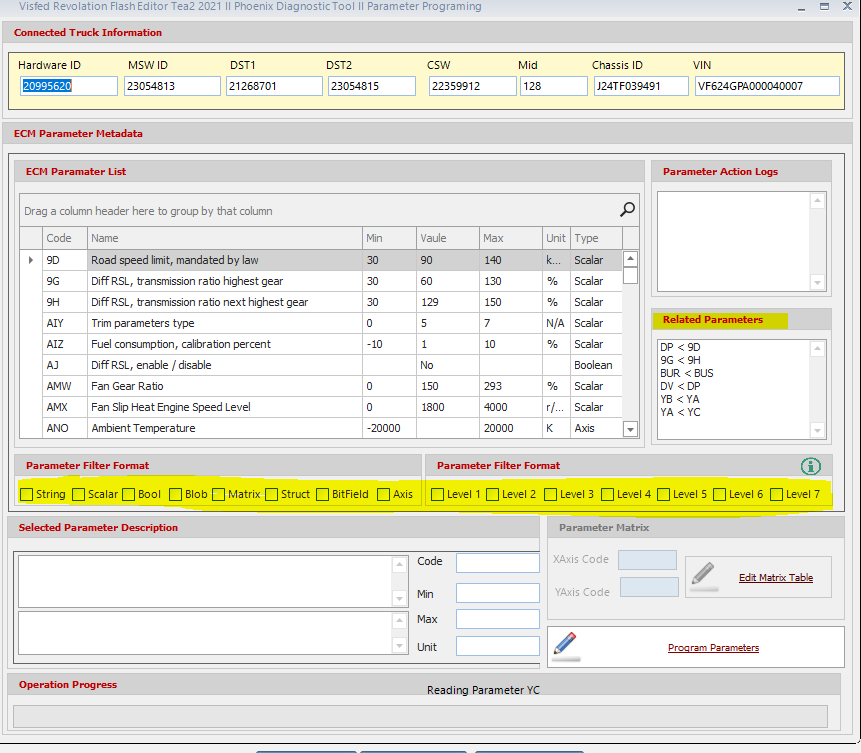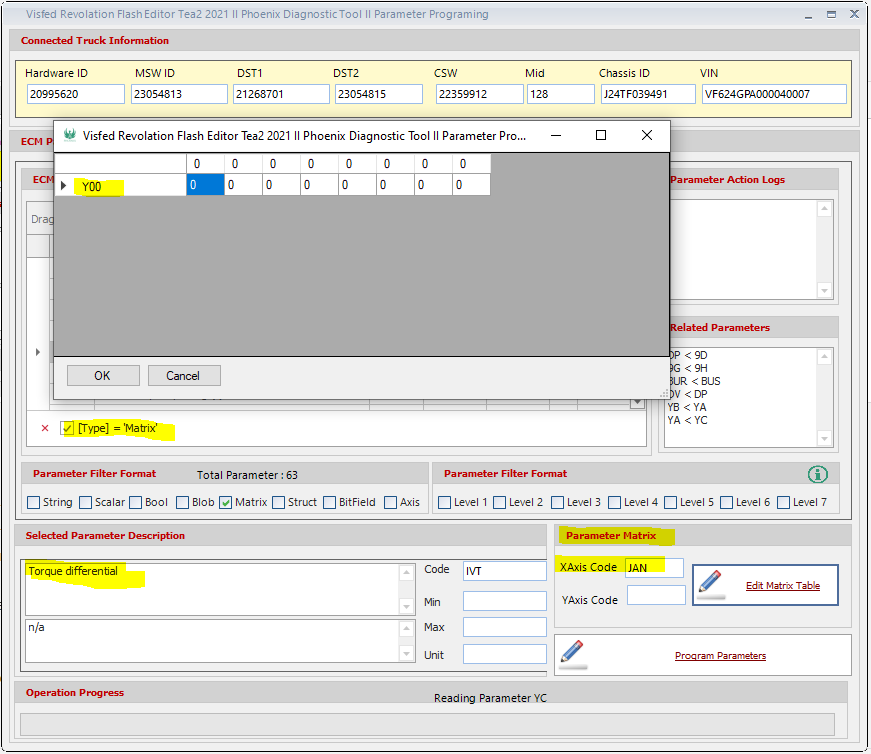 Clean Fault Codes: You can read and clear DTC codes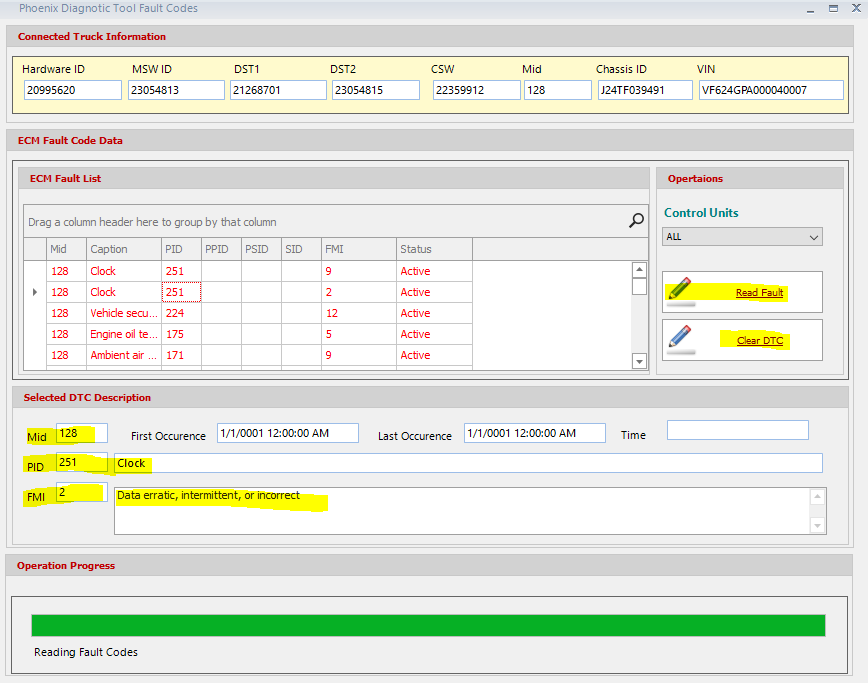 Ecu Flash Programing:You can make a program by downloading your own Ecu file or Online Flash file.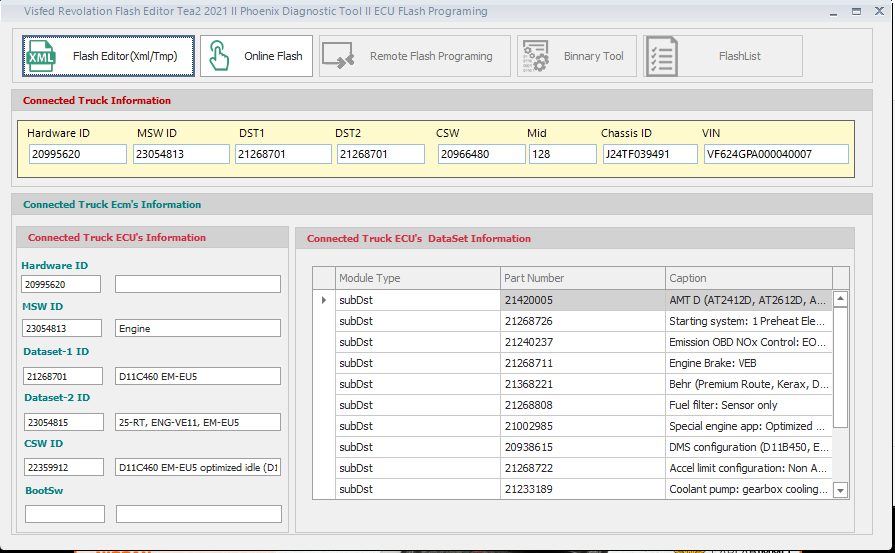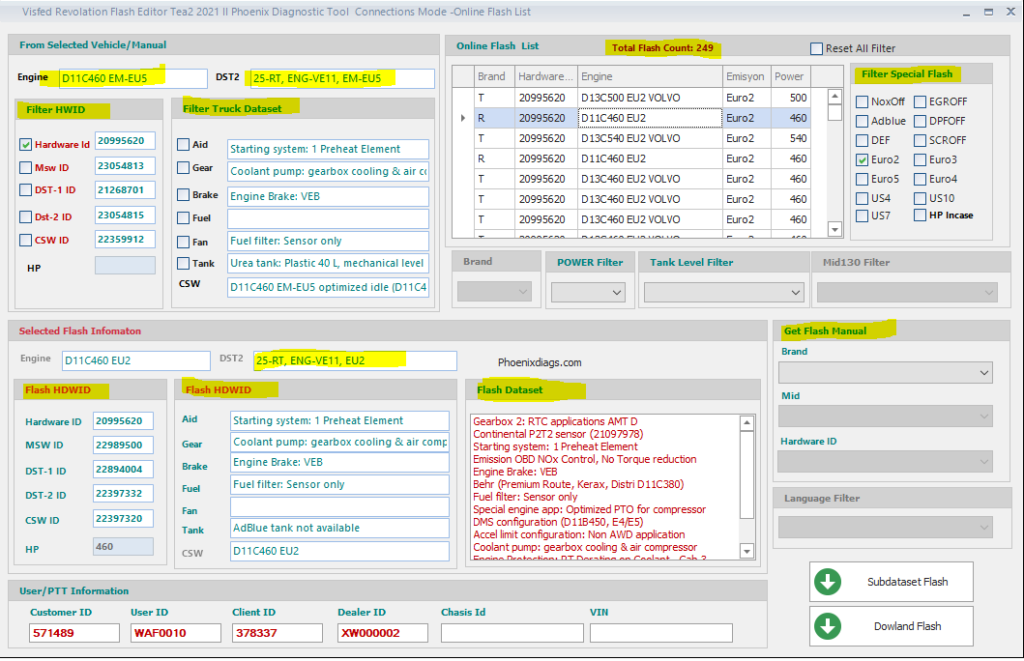 If you want, you can choose one of the Flash Modules and print it. MSW, CSW, DSW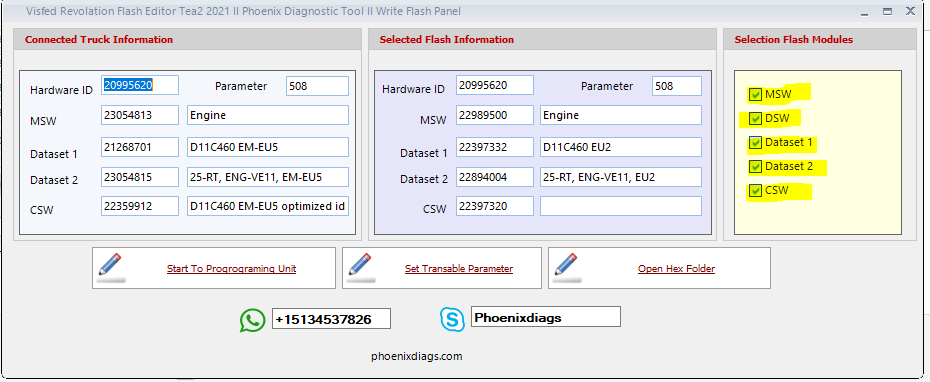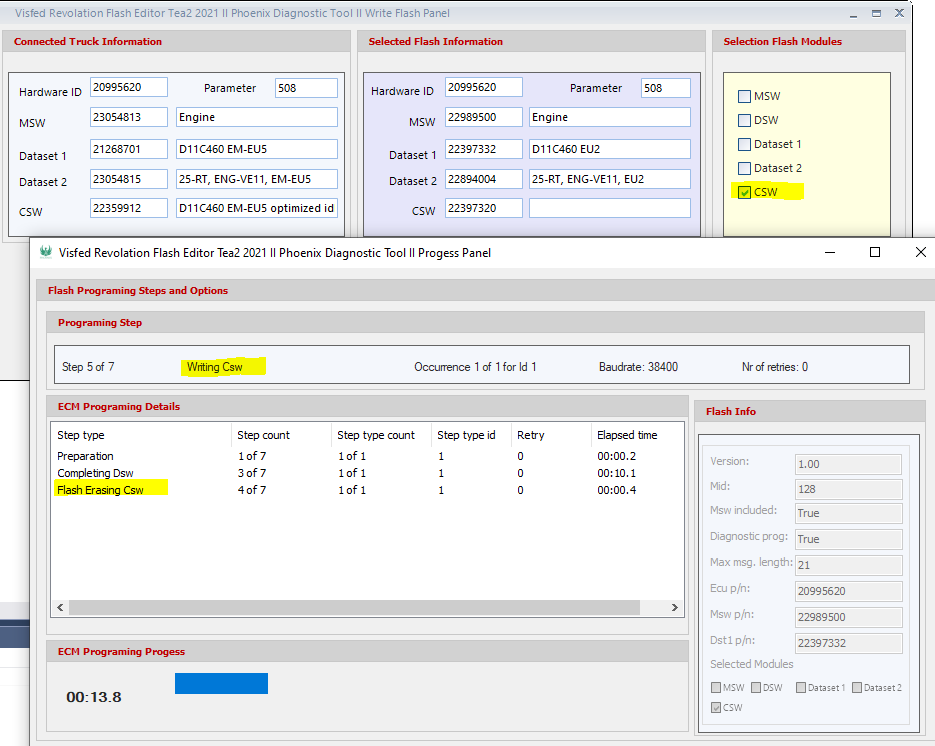 EXTRA  MODULES:

BINNARY EDİTOR TOOL: Binnary File On PTT ((Kess, Ktag, Galetto, MagPro Files)
How to programing Binnary File On PTT ((Kess, Ktag, Galetto, MagPro Files)
REMOTE FLASH PROIGRAMING SYSTEM: You can Programing software remotely with Techtool or to your Techtool vehicle.
Online Flash Phoenix Server
Total aviable Flash:  45126 Flash  Files All mids
VOLVO TRUCK: 23000 Flash Files All mids
Renault TRUCK: 2766 Flash Files All mids
UD TRUCK: 132 Flash Files All mids
MACK TRUCK: 1219 Flash Files All mids
BUS TRUCK: 653  Files All mids
Volvo Construction Equipment : 17165 Files All mids
PENTA: 132 Files All mids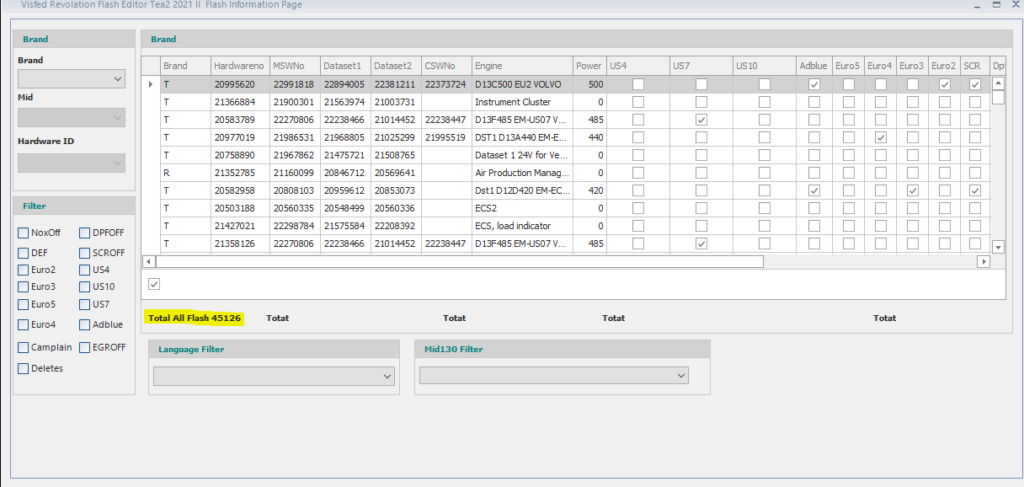 Questions
Q1:Which OS Supports?

Flash Editor Tea2 Supports Windows 7 Service Pack 1 and Windows 10 Pro 32/64 Bit
Q2:Which versions of Flash Editor Tea2 Techtool works on?

Flash Editor Tea2 works Techtool 2.7.116 and 2.8.XX ( When Install Flash Editor Tea2 will be install with PTT 2.8.XX Last Sofware , Devtool)
Q3:Does Flash Editor Tea2 Expiration Time?

The account is for one year. After a year, you can raise your account.

Q4:Is There Flash Editor Tea2 Offline Mode?

Flash Editor Tea2 needs internet to work. In the next update, offline mode will be added to edit only Xml / tmp.

Q5:Can I add additional extensions to my Account later?

Account can be upgraded with Upgrade Account via Flash Editor Tea2 Or you can request promotion by contacting your dealer.
Q6:Can I program in PTT 1.2 with Remote Programing.PTT 1.2 Remote programing support. But 1.2 must be installed on Windows 7. There is no support on Windows XP.Q7:Can I Program software to the empty ECU with the Phoenix Diagnostic Tool?
Yes. You can easily program empty  Ecu.
Q8:Which Adapters support Phoenix Diagnostic Tool?
• VOCOM (USB and WLAN) 
• VOCOM II (USB and WLAN) 
• Nexiq USB Link (USB and Bluetooth) • Nexiq USB Link 2 • Noregon JPRO DLA+• Noregon JPRO DLA+PLC • Noregon JPRO DLA+Wireless (USB and WLAN) • Dearborn DPA 5 (only USB, Dual or Quad device) • Dearborn DPA 4 Plus Note: DPA 4 Plus does not support newer vehicles (OBD2013 and OBD2014) • XscapeEz EZ Tap Note: EZ Tap does not support newer vehicles (OBD2013 and OBD2014)
 WHAT IS Price ?How to Calculate Price
Downland Flash Editor Tea2 Price Calculator